Rollers On A Hot Tin Roof
By Steve Shivers

When I decided to take a holiday after the flying season had finished, it put a smile on my face when we decided to go to Portugal. Not only was it going to be nice weather but I knew where I could see some quality rollers when on holiday. Just no getting away from them!!!!. So off we set and arrived in Portugal at 10.30am. The sun was beaming down and it was 28 degrees, We picked up the hire car and headed off to our villa arriving 30 minutes later. After getting there I made a phone call and made arrangements to go see these rollers I had heard so much about???
Two days later of we set off for the hours drive ahead going only by the few directions given on the phone and to drive on a motorway on the other side of the road. Well the hour drive turned into a hour and a half but when we got where we where going, I could see the loft from the roadside and the landing pole jutting out of the ground. By this time the temperture was heading to 32 degrees, I got the car parked and walked up the drive and there he was just sitting by the poolside sipping tea. Dr.Graham Dexter!!!!!!!
This is one fancier that I've admired since joining the sport and always told him one day I would visit him to see his birds flying. Another reason was that we both fly the same family of birds acquired from Dave Moseley. After a few refreshments off we went down to the loft, his birds where still moulting, but in fantastic condition. He turned out his first kit of 20 birds, well I wasn't disappointed they put on a fantastic performance for me. Even although the sun was high and the temperture at 30 degrees the birds flew in great pattern.. After they had enough they started returning to the loft, ,when they landed it looked to me they where dancing on their toe nails the roof must have been red hot in the sun. After getting the kit into the loft he put out his second kit of 16, again I wasn't disappointed you could see that they where as tight as the first kit.
After another few cups of tea we decided to head back before it got dark and made arrangements to come to visit two days later. We decided to arrive early morning before it got too hot next time. Well to cut a long story short the next time we arrived the birds where even better. I must say Graham you are flying some fantastic birds ,I know you're enjoying them in you're laid back way and wish you all the happiness out there in the bright sunshine. I for one respect your opnions and your views on how a roller should be. Many thanks for all your advice.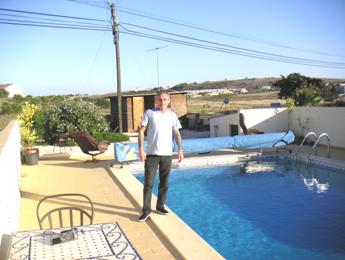 Steve Shivers in Portugal by Graham Dexter's pool – loft in the background.