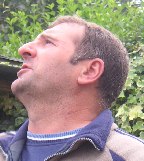 A Report On The Three Winners
AERC Fly 2007
By John Wanless
Fly Secretary
The journal is always struggling to get material in each year so I've sat and thought what I can do to help. Which would be nice if a few more would do the same.
For me the All England is the best fly in the world and we appreciate all those who take part in it, whether it be flying or helping out with the judge you are all greatly appreciated. But for me the greatest test is to win it. Now I think that whoever wins it should be mentioned properly so hopefully if Graham agrees I hope to do a write up each year on the three winners of the AERC flies. At least it will give Graham a few pages each year and it will also give the winners the credit that they deserve.
George Mason
JW: George firstly well done on winning the young bird fly for 2007, as you will know that is the third time that you have won the young bird previously winning in 2002 and 2004. I see you have also won the yearling twice (1991 & 1999) and the old bird (2005). That's not bad going George is it, a lot of people out there would love to win it once, what do you think your success is down to?
GM: A lot of work and time and having good birds to start with, also powers of observation.
JW: George there are not many fliers in the country who can say they have won the AERC more that once but two people I can call good friends of mine, yourself and Morris Hole have both done it. I know me and you have spoke about this before. One of my biggest regrets is that when I was young I would not travel far to see people , now you were brought up with the top roller men for the last 40 years you must have picked a lot of things up from them but all of them have now passed away. So don't you think people should not be shy, they should look at people like yourself, Morris (Hole), Graham ( Dexter), John ( Lenihan), Bill ( O Callaghan) all living legends, don't forget your all getting on a bit LOL that's why I didn't mention myself in there as I am still quite young compared to you lot LOL. But seriously I always think people seem to wait till the top men are dead before they start to appreciate them. You can not pick peoples brains when they are no longer here. There is still a wealth of knowledge out there with the names I mentioned and quite a few new kids on the block. But to me the real top men are the people who do it consistently. Well George I've enjoyed writing this profile because I think you are one of the top fliers still alive in the world today and it would be a great shame if people did not learn to appreciate people like you while you are still here.
Chris Robinson
JW: Chris well done on winning the old bird fly, with a fantastic score when you look at the rest of scores in the old bird fly. Chris I have known you since you were kid, you used to come round to my house when you were about 10 or 11 years old to watch my birds. So how long have you had your current birds and where did you get them from?
CR: I have had my birds for about 20 years, I started with a hen from you (John Wanless) and I borrowed a cock bird from my brother Pete. I paired these two birds up and then put the young hens back to the cock and the young cocks back to the hen and doing that it took me five years to build up a good family.
JW: When did you join the AERC?
CR: Just recently really in 2005.
JW: The reason I asked you that is because I know you have not been a member long and to win the old bird fly so quick takes some doing so many of the top fliers have been flying in the AERC for years and have not been able to win.
CR: I wouldn't fly in competitions until I knew the birds were right.
JW: I've seen your birds as much as anyone and more that most and they always seem to fly at a nice height. Out of the three winners this year I have to say that you have the worst place to fly birds from with all those massive trees in the back. I remember last year in the International fly, your birds put in a superb show on taking first place, but the judges told me they did not mark a lot of breaks because of the trees. I had been over to South Africa to watch the fly and also saw most of the kits in England and I have to tell you your kit was by far the best kit I saw on the whole fly. As I was saying before you have the worst flying spot out of most people so I presume you must lose a lot of birds especially young birds
CR: No I don't lose many actually.
JW: Your brother Pete flies some very good birds but does not seem to do as well as you why do you think that is?
CR: He messes them about too much.
JW: I always think if he let you fly his birds he would win quite a lot, because he has excellent quality but I think because Peter works shifts he cannot get his birds into a regular flying time would you agree?
CR: yes I would.
JW: Are you and your Peters birds from the same stock?
CR: they come from similar lines yes.
JW: Your oldest brother David kept rollers first in your family was he the one who got you into them?
CR: Yes
JW: Chris I know that you don't drive so you don't get out of town as much as most of the Boro lads, so you probably haven't seen the other two winners birds. I will have to take you down to see them one day.
So whose birds do you admire in the roller game?
CR: John Wanless, Dean Forster and Pete Robinsons birds.
JW: Well Chris I always say anyone can win the All England once but the real top men are the ones who can win it more that once, There's not many of them in the country, but I honestly think with a bit of luck you will win it again and I for one hope you do good luck.
Lana Howarth
In the last few years I have seen a bit if a change in the roller game, quite a lot of women have started to take an interest. Joy Stafford who used to be our ring secretary flew birds as did Pete Harpers daughter Amy, also a smashing lady from down south Lesley Pinks, and now we have a winner this year in Lana Howarth. That's not forgetting the great job our secretary does who has also started flying her own birds now Donna Chantry and also the ex National secretary Jan Bayne flies birds. So there are more and more women getting involved all the time which for me is not a bad thing, because surely they have got to be better to looking than Graham and George.
Now as far as I am aware the only girls that have ever won the AERC are Amy Harper and Lana. Now with Amy we all know it was her dad Peter who had the big influence on her but with Lana I've been told it's all down to herself. She picks and trains the birds herself. Lana has a great spot for flying rollers from and I think she flies a mixed bag with birds from a few of the top fliers around the country, so we have to give her credit. You can get birds from the top men but you have to put the work in to get them to fly right together. Lana also does a great job with the judges, she always volunteers to give them a bed for the night and feed them and when called on her and her husband Norman has driven different judges around certain areas clocking lots of miles at their own expense. These are two great additions to the roller game. Not having had the birds long only two or three years, this is another great achievement by Lana when you think about it winning the AERC in such a short time and Lana also qualified for her region in this years World Cup fly and finished just out if the top ten fliers in the world at number 11 in the finals. So keep up the good work Lana and congratulations on winning the 2007 yearling fly.
John Wanless