Our next stop was at the one and only Sammy Davies and his delightful wife, Wendy. Thanks Wendy for sending Sammy to bed at 12. We would have missed the first fly at seven if it wasn't for you. Sammy, your old bird kit at five thirty in the morning was proof to me that the pigeons in England can actually fly that time of the morning. The sun lounger you gave Chris(Koos) to sleep on made him extremely homesick ,he was imagining the whole night that he was in sunny South Africa.

Friday the 13th saw us relaxing with Des and Lorraine Murphy. The perfect place to be if you are superstitious. The company and food was so outstanding that everything else was unimportant.

Our last stop before we moved on to the Middlesbrough area was with Alan Hamilton and his delightful wife Christine. She made sure that we could watch the rugby game between South Africa and New Zealand. The three course meal of prawn starter, beef curry and the most delicious Tiramisu for desert was a fitting celebration of the Springboks victory over the All Blacks. Thank you both for a great evening.

The next seven nights we spent with my good friend John Wanless and his adoring wife, Judith. Thank you for everything you have done for us, specially the birthday dinner for Chris (Koos). He cannot stop talking about that evening.

The judging started at Steve McGlory on a beautiful, warm cloudless morning. Steve flew an old bird kit that was more interested in enjoying the weather than performing in a competition. Two very good individuals made it a pleasure to watch. However, the very warm breezeless day took its toll on Michael Manser, Rob Wilden and Ray Gudgeon's kits.

Our next stop was Garry Egglestone at Andover. What a perfect flying possition. He is flying some Mason pigeons through Trevor Slater, and took the lead with 120 points in the yearling competition. He had some very nice fast spinners in his kit and we spotted our first candidate for the Rose Bowl. We ended the day judging Ian Lawrence's young bird kit which was flying in a very peculiar sweeping action, preventing it from performing.

After travelling 313 miles that day we were thankful when Ian took us for a carvery at his local pub. Soon after we were enjoying a well deserved rest.

The next morning we started off with Ian's old birds, but they had the same problem as the previous kit. John Lenihan with an old bird kit was next on our list. I was very excited to see this legends kit perform, but it was soon clear that the very strong wind would not allow the kit to be at its best.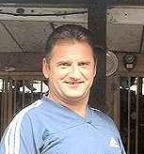 John Wanless

L-R Ian Lawrence, John Lenihan, & Steve McGlory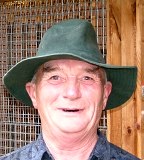 Alan Hamilton