National Fly 2007

Judge: Graham Dexter
I arrived at EMA at 12-30 on Wed 19th September, after picking up my hire car I was off to George Mason's for the first fly. George's young birds (For AERC) put up a good show despite strong winds. George had put up a white stick in the field indicating where I was to judge them from. I hoped the white stick wasn't an indication of his view of my eyesight. Making a few breaks and with the help of 60 quality points and 20 kitting points his respectable score for a very windy day was 124points.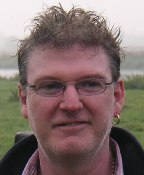 Kev Johnson flew his yearlings (For LRC) next, unfortunately one wouldn't fly so he threw up another in its place, unfortunately because this hadn't had its ring verified I had to judge a 19 bird kit with one stray! Sorry Kev. He had some quality birds in his kit, but with the wind they seemed to be undecided whether to roll fast and properly or simply not put much effort in and wait for a better day. 97 points for a yearling team on a windy day isn't too bad though.
George had made soup for everyone earlier – which was really welcome, but now proper solid food beckoned. Dave Moseley treated us to fish and chips and we were off again to Leighs. Leigh (For LRC) has done really well for his first year in competition, winning through with his young birds twice! And finishing 3rd equal in the All England Young Bird Team. Despite very strong winds and the kit being blown away he still showed some good quality and ended up with 86 points on the board. Next was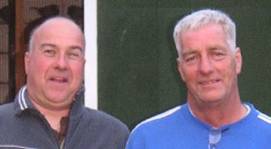 Dave Moseley's and Ian Bains (For LRC) who also suffered a bit with the wind, but a nine and a twelve bird break helped move the points up a bit. A really good waterfall of nearly all the kit demonstrated some exceptional quality – so his 120 quality pushed his score up to 195.
Early start to try to beat the M1 and M6 traffic, so arrived at Terry at 7.45 to the great smell of bacon and sausage sandwiches and steaming hot tea. Joan,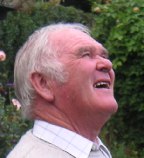 Terry's lovely smiley wife had been up early and cooking home cured bacon and fresh baked bread for us all. Joined shortly by Neville Hackett and others from the Midland and Bill Barratt Roller Club. Grumpy Mason rang at 8.05 to say he was lost once again, and needed direction. Like good fanciers we ate more butties and waited another 15 minutes before releasing Terry's old birds (For MRPC). The birds were worth waiting for as they held the wind well and demonstrated some good quality rollers with a few a bit inconsistent – scoring 108 in breaks and 100 quality points. Taking the lead at 226.
Terry's Yearlings (For BBIFRC) weren't quite as perky, but still claimed 80 quality points and ended on 137.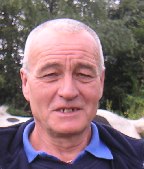 Next was Tony Bagley flying young birds (For AERC), an entertaining team to watch, but flew a little high to assess the quality accurately, so he ended with 50 quality (probably far too low in reality, but cant see them can't give them the points), and finished on 113. Chris Rhodes (for MRPC) had for once weather that didn't include rain. I'd never been to Chris's before and not had rain, so this was a bonus. However maybe they needed some rain, as they just didn't get into the mood. Although they did many good breaks, I couldn't score them as they just weren't balling up sufficiently to be judgeable. The heavy moult may be part of the story here, but on three occasions they did enough to score, but mostly just didn't seem to be interested. After apologising to Chris for his lack of point (couldn't find him more than 31), I scampered off to a new fancier – saved from the red badges, and roped into rollers. Kev Boden (For BBIFRC), flew some really entertaining and quite deep tight rollers. On his first fly in the Nationals scoring 188 points and sweeping into the lead! 88 points in breaks and 80 quality points. Before departing Kev rewarding the judge and entourage with some tea and nice fancy cakes.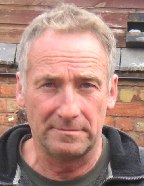 The long drive to Gordon Daffurns was made more enjoyable by the thought that he always greets you with a smile and a strong cup of tea. After some reminiscing and a bit of moaning about the weather Gordon got around to flying his old birds (For BBIFRC). Starting with a high quality 8 bird break, I was hopeful the strong wind wouldn't hamper the kit too much…..not to be though. After a couple of minutes they were swirling around the houses low and riding the wind. Fortunately before they landed they did a really high quality waterfall break which allowed me to examine the quality and reward them with 90 quality points which left them with a score of 122. His yearlings (For BBIFRC) faired less well, with only 30 quality points and finishing on 49! Still he has another opportunity next week for his old birds again and his young birds. After a long discussion (and YES Gordon I do remember you winning some flys including the National – so NO you aren't always the bridesmaid and never the bride!!) and more reminiscing, and some ham and cheese baps and more tea then I was off to Somerset and Ian Lawrence's. Ian and Annette made me welcome with a hot shepherds pie and tea, and Ian entertained me with more reminiscences before I retreated to bed. After what seemed like only ten minutes sleep it was time to be up and at them. Ian's team of old birds (For SWRC) again suffered the strong wind, but managed to show some good quality (80 points) and 7 reasonable breaks – 139 in total. I also managed to pick out the best individual old bird here. After a smashing breakfast, some welcome cups of tea and another fascinating discussion on quality points I was off to Cambridge and Les Dodds. I arrived at Les's to meet Ray and Michael. (Michael, Les and Ray pictured here) Waiting was tea, sausage rolls and pork pies ready to eat.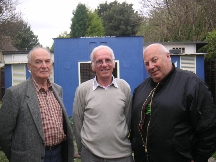 After a little chat about the state of rollers Les (For EARC) let out his old bird kit, which I was pleased to see was an old bird team – birds from 2000 to last year were well represented. With 4 yellows in the team I was interested to see how they would go. I wasn't disappointed as they rolled very well (80 quality and 76 in breaks) and ended up with a score of 176. Despite a very strong wind and high trees surrounding Les's property the birds seemed to just pop up from above the trees and do a good quality break with some regularity. Well done Les.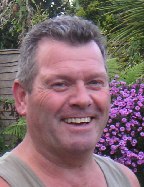 The final competitor that evening was Peter Strip flying his young birds (For EARC). These had some quality rollers in them, but need some more time to develop before they should emerge as the fine rollers that Peter is known for. 2 cups of tea and 2 fancy cakes later I was off to Leicester leaving Peter with 111 points in the certain knowledge that he could enjoy his night at his nephews wedding confident he at least wouldn't be last.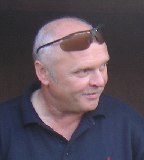 Saturday: Another early start and arriving early at Jim Fowlkes for a welcome bacon butty and a strong cup of tea. Jim looked like he'd been up all night catering for the 5 thousand, and was hoping he didn't have to live on bacon butties for the next month!! Fortunately for the food point of view loads of people turned up…..from the kits point of view, they looked a little sheepish as they were DQed as 3 birds dropped early. Nonetheless some of Jim and Sean's rollers (For MRPC) gave us a few sparkles of quality to watch. (Sean pictured left)
George Mason (For TSIRC)
was next, and he also had prepared bacon and sausage sandwiches for us all, so we enjoyed them while waiting for the morning mist to rise. Very glad that we did as George immediately took the lead with his quality kit of youngsters with a solid 235 points.
Maurice Barwick (For AERC) faired less well, as recently plagued with Peregrine attacks his kit always looked like they were on edge and nervous. Spooked to the point of needing a long rest they decided to retire early leaving Maurice with nothing more than great company and a DQ. Again lots to eat and wonderful hospitality though!
Further North we ventured now to the Weaver brothers Trevor and Ken (For WDRC), another troubled twosome with the same Peregrine problem. Once again the birds looked edgy and didn't settle well at first. However once they established a nice flying pattern and gained a little height they scored a few breaks. As they didn't really settle until they lifted I was unable to accurately assess the true quality of them, however I'm very sure they earned the 50 points I gave them and probably more if I could have seen them better. A reasonable 125 scored altogether.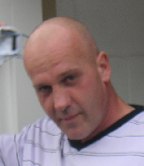 Now off to Norman (left) and Lana's who were representing the Wigan and District Roller club in the yearling and young bird fly. Both teams were outstanding with Norman's youngsters staking a claim for 2nd place only 15 points behind George Mason (125) and Lana's yearlings leaping into a substantial lead with 235 points. Both teams scored high on quality points (Norman 100 and Lana 120) demonstrating how important these points are to push to the front.
We finished with Paul Noon's yearlings(For AERC). These were a very polished kit, but had suffered from the Peregrine. Once settled they looked sure to score high on both quality and breaks. I was quite prepared to award 150 quality points at the start of the time in, but sadly as the team seemed to lose stamina the breaks became less frequent and less crisp and the quality of the roll seemed (to me anyway) to deteriorate. Nonetheless I was very happy to award 90 quality points and Paul should not be to disappointed with the final score of 155. So Paul sorry if I robbed you of a few quality points – it had been a long day – I did really like your team, and especially to see such terrific rollers in such fine physical condition – just proves you don't have to starve rollers to have a good performance!
Now as I sit in this lay by typing this up on my laptop I notice its nearly 9 pm and I'm still about 14 miles from John Hall's where I hope my dinner and bed await!!!! See you tomorrow.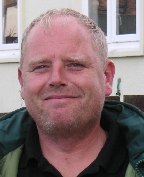 Well I was at John (pictured right) and Lesley Hall's by 9.30 sipping a fine South African Red wine and waiting for my curry and chips to arrive courtesy of the local Chinese take away. The extra weight I was about to put on had been carefully calculated by my hosts – so when offered a cup of tea later I was only allowed to have it with artificial sugar in it. Clearly it had become obvious to everyone that I needed to diet. Amusing my hosts with silly stories and risqué jokes was great until the red wine had taken its effect and I was able to retire to a welcome bed (despite its Newcastle United eiderdown) and settled down for a good snore.


6am came tumbling along about 5 minutes later, and with it the sound of the gale blowing outside and John running a shower for me. After a quick shower and cup of tea it was off to Ali Milnes house for him to fly his rollers. Despite the howling wind Ali's old birds (For TWRC) flew up and put in a quite a few very good quality breaks until the came down and did in Ali's words 'they're chimney dancing'. With the help of 120 quality points they ended on a very respectable 222 points. Over to the Tyne and Eddy Baldwin (pictured topt left)(For TWRC),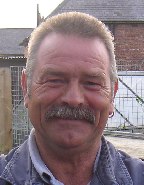 whose birds suffered a similar wind but unfortunately could only manage 3 five bird breaks, but made up some ground with kitting and quality points. Finishing with 113 points and a great breakfast bap delicately cooked by Eddies wife Susan …thanks very much for your hospitality.
Off to Teesside via the tyne tunnel and Stevie Hopper's young birds(For AERC). Blown down and playing peek a boo through the houses his kit did not fair too well, however a very nice black flighty with a dark tail made the show more enjoyable.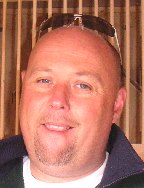 Andy Dawson (For AERC) faired a little better with his old birds with some sharp rollers and scored a total of 131. Had they been closer and therefore easier to assess I'm sure they would have scored much more and threatened the leaders. A good team spoilt by the wind.
Terry Allinson's (For AERC) youngsters landed early seemingly suffering the effects of being on their last flights and heavy in the moult, and Chris Robinson's (For CCRC) youngsters although showing some sweet and smooth rolling could not handle the strong wind and ended up with a small (for him anyway) 116 points.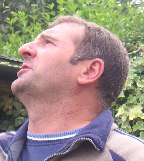 John Wanless (For MRC) raised the stakes by putting his yearling kit out and despite the gale blowing they held up well and did some good quality medium sized breaks and with 120 quality points saved the Teesside reputation with an eventual 194 points.
Leaving Middlesbrough temporarily behind (off again there tomorrow) it was back to Consett and John Hall's yearling (For TERC) and old bird kit (For AERC). Both of these kits were very able to hold against the wind (experience does sometimes shine through), and produced high quality rolling with a mixture of small and medium breaks. His yearlings finished with 229 only a few points behind Lana on 235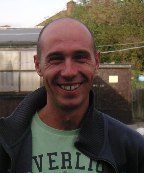 , and his old birds overtook Terry Harper's birds which had lead for so long. Terry now has to beat an outstanding score of 267. Sorry Terry, but you will have a second bite of the cherry next Sunday. Perhaps an even greater and more pleasant surprise was the young bird team flown by Ross Young (For TWRC). What a delight…….taking on the wind as if nothing, the team was incredibly active with excellent quality. With 21 breaks (3 in double figures) and 90 quality points they shot well in front of George Masons leading team. Nice to see the new boys on the block making the old master sit up. Ross finished with an excellent 289. Now it will be up to George on Friday to see if he can raise his game and regain the lead. (Unless of course someone else can challenge in the meantime)

Staying here with Ali and Jean tonight I'm typing this while they relax on the sofa watching the tele….I'm not at all jealous as I've had my Madras and Korma and I'm on my second glass of Lindermans finest!! I wont be too long before my bed beckons though! Ali's has 2 teams representing the AERC tomorrow at 7am then off to Middlesbrough for a long day ….so I need a good nights snore! See you tomorrow.
Awoken from a lovely sleep by Ali at 6.10 and found a scrumptious breakfast awaiting. Paul Graham and Eddy Baldwin arrived shortly after, and following a welcome cup of tea we braved the chill wind and very rainy morning to fly Ali's youngsters. Despite the appalling conditions his team toted up a magnificent 230 points including his 120 quality points. The team did most of its work in the 1st 10 minutes then went quiet, so if they had carried on working I'm quite sure they would have overtaken the leader. Unfortunately his old birds looked like a completely different team from the day before and only managed 50 quality points and 9 small breaks leaving him on 119. As his youngsters had decided 1st not to drop quickly and then bath on the loft top, showing no interest in going in, Ali had basketed his old bird team and we took them over to his green – hoping they wouldn't drop to the youngster……perhaps this was why they refused to perform?? Or were they just tired from the day before??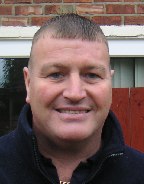 On to Middlesbrough to fly Andy Connor (pictured left) (For MRC), I hadn't met Andy before, and even though he seemed a nice chap I couldn't find more than 100 points for him even with 80 quality points!
Last years AERC winner Stevie Hopper was next, but despite the wind dropping for him his team of young birds(For AERC) just didn't work. 111 scored (6 small breaks and 60 quality). With bated breath we trogged on in the drizzle to John Wanless's (For MRC) where he decided to fly his youngsters first. Some very high quality birds here, as you would expect, but the kitting lacked tightness, and thus the breaks came reluctantly. Nonetheless finishing on 226 helped by 120 quality points.
Chris Robinson (For AERC) fled his brilliant old bird team next, and although I had seen it produce slightly better quality in the past, it still produced an excellent show. Leaping into the lead with 275points and scuppering John Hall's dreams of glory.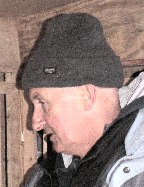 George Frost was next with his 16 yearling – strangely so far I haven't seen a reduced team do any good, and unfortunately Georges were no different. Having waited quite some time before putting them on the clock. (I think he was hoping that a stray that had joined them would leave), they did about 2 minutes and followed the stray down to his rooftop. Team was DQ'd.
Back to John Wanless (For MRC)……..his last chance ….could he do it again?? A very solid team of high quality rollers made some cracking breaks despite the wind and rain. Having totalled up his score to 268, I broke the bad news to him and told Chris he was still in the lead. BLUNDER TIME!! After my careful and valiant scorer Peter Mills rechecked the sheet he discovered that despite my teaching certificate, Masters degree, and Doctorate in psychology……I cant add up! Adding the two lines of breaks 112 to 18 I had totalled the breaks to 120. Yes 10 points short! This when corrected totalled 278 piping Chris's score by 3 points! So once again bad news for John Hall now pushed to 3rd and another few points for someone else to beat if they want to rival John for the crown!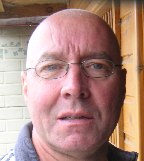 Trying to follow 'that' Stevie Hopper's old birds(For CCRC) tried hard but after the struggling in the wind the day before, it was clear they looked a bit worn. Showing the odd turn of sharpness but with only 8 breaks they retired defeated with 134 points.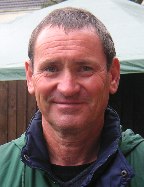 The final show of the day was Terry Allinson (For CCRC), having been dqed yesterday and flying the same team, no-one was particularly optimistic. His bogey birds were wing sore on their last flights, and sure enough they seemed fine at first scoring a few breaks, but after the first real big break I think they just hurt too much and dropped straight out of the sky. 4 landed after 10 minutes leaving Terry with the dubious honour of being dqed twice in two day!! Sorry Terry – I did see some nice tidy birds before they dropped – you were already up to 86 in break points and with a possible 80 quality and 19 kitting you could easily have made the 200. Bad luck – thank God there's next year.
Off to Bill O'Callaghans now, hope Jean has cooked me something nice….more tomorrow.
Sure enough despite the fact that Bill and Jean weren't expecting me, the braised beef, green beans, carrots mash and gravy easily stretched to 3. Bill emerged from the allotment to tell me he had just clocked in a racer from the Barcelona race on the second day and had to rush off to Derby to have his clock checked………why oh why do you need to tell such fibs Bill …..what a wind up merchant!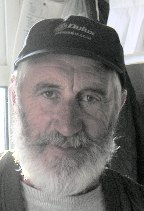 After a very good nights sleep we were at the allotment at 9.15 having had a hearty breakfast. The Johns 'Wanless and Conradie' arrived about 9.40 just in time to see Bills young bird kit (For YPRS) go out. Flying too far away and high to be judged they worked their little hearts out, only to be tired out when able to be put back on the clock. Scoring a bare 79. His yearling (For YPRS) followed but just wouldn't break together. I noticed a good black with a dark tail, but as it was not always finishing clean I disbarred it from the possibility of the individual champion. After the traditional tea and sandwiches, provided by Jean, we were off again this time to Dominic Butterworth (pictured right). A very pleasant newcomer who has a great sense of humour, but is so ugly even the flies wouldn't land on him.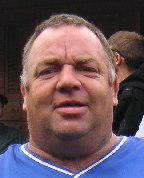 His young birds (For WRRC) looked capable on emerging but despite perfect weather they pinned out and it was difficult to judge either breaks or quality. Nontheless a few breaks were scored and some meagre quality points allocated – finishing on 81 points.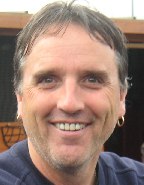 Alan Hamilton (For WRRC) flew next with some old birds – still in perfect weather, but failed to sparkle. One nice break of 10 when almost landing was the highlight, but with only 7 breaks and 60 quality, I'm afraid he was never really in contention. Paul Chantry (pictured left) (For BDFRC) flew his old birds next, waiting a traditional time before putting them on the clock they did only a few breaks before these too also pinned out. Spending the full 10 minutes off the clock and another 12 minutes too high to judge Paul did the decent thing and scratched the team.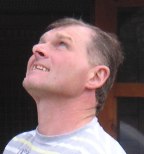 Paul Briggs was next to fly. Paul has a very nice setup, very clean and tidy roller lofts with plenty of ventilation and his birds seemed keen to show off for their owner. The young bird team (For WRRC) was very active, but once again spent nearly 4 minutes off the clock as they got too high to judge correctly. If this team had broken cleanly instead of the staggered starts and follow throughs, it could have easily rivalled the leaders. With some good quality rollers (100 points) it ended on 205 points.
With considerable excitement and whispered rumours of seeing the winner next we proceeded to see Paul Imeson's young bird team (For WRRC). Paul I have to apologise to you publicly, I was very harsh with my comments on your birds, it was a personal view of your birds which I should have kept to myself. As I wrote on your sheet the team was a very very good team of working rollers. It scored 13 breaks of which 3 were in double figures. In fact the 14 bird break was the highest break I had called in the competition so far. However, I honestly did not see a bird in the team that I thought was rolling correctly – thus zero quality points. I have seen this sort of team win competition after competition, and I am sure this team if its kept together will continue to score highly and win many more competitions. It is however not the sort of team I admire, lacking style and gracefulness I would hate this 'wingy' roller to become popular. To be fair the kit was, for some, entertaining and I agree they were rolling fast and well within a standard to be scored…..just not entertaining or enjoyable for me. I really am sorry, and somewhat ashamed of my comments on your sheet though Paul my sincere apologies, I didn't realise that you were pretty new to the hobby and it was not my intention to cause you any hurt – a silly comment I regret. A pretty impressive 216 points though!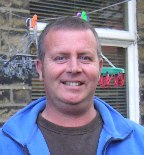 With a rather downer of a mood now in situ we went back to Bradford to fly Robert Waterworth's yearlings (pictured left) (For BDRFC). The team had a few quality rollers in it and did a few nice breaks, but not a team to compete with any of the teams in the lead – well not today anyway!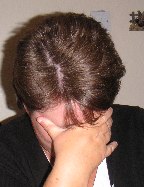 A splendid relief to go back to Janet Bayne's and imbibe a very large gin and tonic (or 4), and chill out. This is her pictured left after I recounted my afternoon! Spaghetti Bolagnase with good company did something to help me relax and get ready for my early start, hurtling once more in an aluminium tube at 500 mph this time towards Northern Ireland and Belfast!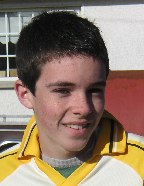 The 5o'clock call came only minutes after I had shut my eyes, but with a cup of tea in hand as Janet drove me to Leeds Bradford airport I was beginning to wake up and be ready for (I'm pleased to say) a light day of judging in NI. Kevin McKinney and Steve Shivers met me at Belfast International airport and we made our way to Armagh and see Gary Kelly's team of young birds (For NIRC). Gary is one of our keen new fliers and it was nice to see his team do quite well for him. The team was off the clock for some time out of sight with a strong wind, and had been working hard in the distance before returning on the clock. Despite being obviously tired and landing a little before time, they were able to show off their quality and do 10 breaks to leave our youngstest finalist with a score of 162 points.
After a short break with feet up and copious tea and biscuits it was off to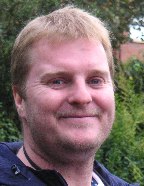 Nicky Scotts(pictured right) for his old birds (For NIRC). Flying only 15 (bad omen). When the birds went on to the clock, it looked very much as if my prediction was correct, as they flew flat for 7 or 8 minutes without any performance at all. Then as if someone had lit a fuse on them they started and gave a very entertaining performance until they came off the clock – finishing with 213 including 100 quality points.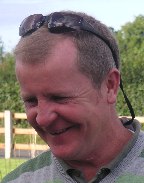 Finally for the Northern Ireland Roller Club with a yearling team was Kevin McKinney's (pictured left). I had seen Kevin's birds in August so I was hoping to see the same deep fast and stylish spinners I had seen then. I certainly saw some nice birds, but they didn't want to win today. Despite the large tree they remained in sight all the time, but with 13 medium sized breaks and 90 for quality they weren't in contentions today – 185 points.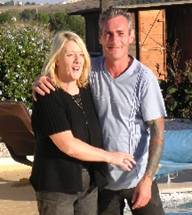 A quiet evening in with Steve and Murtle (pictured right later this year in Portugal) was the order of the day now. Chicken and chips in front of the TV was my nice relaxing end to the day (and of course the bottle of Chardonay)! After a restful night on the blow up double bed, Murtle was the first down to make tea and see Steve and I off to the airport for the 8.20 plane to Leeds Bradford. Despite the plane being delayed it still arrived early enough for Janet not to have to wait around too long! The beautiful blue skies of Belfast had been exchanged for the bleak chilly grey dawn of Bradford. Never mind it was off to Janet's for a grand breakfast of bacon eggs sausage beans tomatoes black pudding and fried bread. I did at one point ask Janet if she was competent at CPR just in case it gave me a heart attack – she said she was so I tucked in!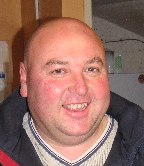 Off to Paul Flatt's to see his yearlings (For WRRC). As the weather had once again turned very cold and windy, I wasn't very optimistic of seeing a great show, but at least they tried. With cup of tea in hand both I and the team did battle with the elements. While I drank the tea the team managed 3 breaks, and with 3 birds rolling well in this very bad weather Paul finished with 61 points.
Alan Hamilton (pictured right) was next with his young birds (For BDFRS). These I had been told were pretty good, and certainly when they went out there was a few showing well.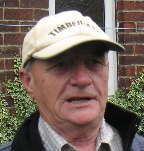 Unfortunately they very quickly were blown away and although it was possible to see them working well in the distance, it would have been impossible to judge them. Once they returned did 3 or 4 breaks with some good quality, but Alan didn't want to put them on the clock until they had got together properly – although this seemed highly unlikely to me in this weather – it was his choice. The rules currently for the National are not specific enough in terms of how long they get off the clock initially before they must be put on – 'a reasonable time' is the wording – so perhaps some club in the future might want to propose this is changed to a specific time. Anyhow when Alan did eventually put them on they did 7 small breaks and earned 60 quality points – I think there was probably much more than 60 points in the team, but I can only score them on the day and what I see when they are on the clock! Given the weather I don't think Alan shouldn't be too disappointed with his 115 scored.
Finally it was off to Dominic Butterworth's and his yearling team (For BDFRC). Here the wind seemed to have slackened off a little and his team held up extremely well. Flying quite slow into the wind, and at a perfect height to be judged, his team managed 8 small to medium bird breaks and a good 10 bird break before time was up. With quality and kitting this left him with a very respectable score of 168. Leaving him with a smile on his face I was soon off to Lana Howarth's where I knew there would be a warm welcome, a cup of tea, and dinner to be served……cant wait.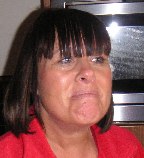 I wasn't disappointed as Lana had cooked steak for me and Norman Lana's husband. Jade and Jordan ( Lana and Norman's daughter and son) joined us for a splendid meal. I consumed 2 large gin and tonics, and a couple of glasses of red wine over the evening, so it didn't strike me as odd that we spent most of that time talking about our schooldays and doing the 'I couldn't even dream of a cream cake when I was lad' stuff until the early hours. A comfy bed with its own en-suite was a far cry from the four star caravan provided by Paul Noon last time I judged around here, but I suppose someone has to suffer the luxury.
After another splendid breakfast it was down to business and Lana's kit of yearlings (For AERC) – with only 2 more yearling kits to fly she couldn't be placed less than 3rd anyway, so this fly was somewhat academic – she could of course beat own score and secure 1st and 2nd place…..we will see!
Well well well, hardly seemed possible that Lana could beat her 1st score, but that's exactly what she did! With 170 points in breaks 20 kitting and 130 quality she put herself into 1st and 2nd place. So it was off to Bill's with again this time for him to fly his old birds (For YPRS). Some really nice quality birds here rolling fast and deep in just about perfect style, however with the strong easterly wind, the kit did little more than individual performance and only 4 breaks finishing with a score of 128 points. After a phone call from Derby to hurry me up I went hurtling down to Derby and to Kevin Johnstone's. Flying the same team of yearlings (For Melbourne RC) as before. Facing a very strong wind, they stood little chance. Even walking to the ring road to see them better, they just couldn't do much more than swing around in the wind. A few nice individuals in the team left him with a score of 107 points.
George Mason now had his last chance to overturn the leaders score and move himself up from 2nd to 1st place……could the old master (some say old bugger) do it……short answer fraid not. With the wind from the North the birds came out and he immediately lost 2 to the trees. Declaring an 18 bird team on the clock, he was unfortunate enough to have the birds strike up to them later only to be counted as strays – 7 birds rolling for a 5 break. A real shame as there was some excellent young rollers on view here. Finishing on 194 with 100 quality points and sure he wont be too disheartened. Especially when I'm almost sure his young strawberry will take the individual unless something spectacular comes through.
The last flier was Dave Moseley with old birds, one of the last serious threats to John Wanless's supremacy. Again not to be! With the drizzle and wind taking its toll on the birds it was not surprising that the team did extremely well to stay airbourne. After a really low and large break it left 1 bird on the rooftop and only 19 still flying. Declaring 19 in his kit, it wasn't long before another big low break left 2 birds on the roof – these dropped a few moments later earning him a deduction of 10 points. The remainder of the kit managed to stay up just long enough to avoid the DQ but each break they made sounded like wet rags spinning around in the sky. Some exceptionally good quality left him on a score of 196.
Spent the night at Dave's and enjoyed the company of his wife Helen, and his children Danielle and Kevin, had some fish chips and mushy peas, and a relatively early night – 12.15. Snook out early in the morning without waking anyone, and I was in York for about 9.15. Renewing my acquaintance with my children only took me till about 2.30 so I was able to get over to the O'Callahans for a pleasant evening with Bill and Jean. A hearty meal of Pork Steaks, mash, green beans, and carrots. After watching Casualty with Jean and talking rollers with Bill, I hit the sack at 12.45. After another wonderful breakfast – fresh eggs, bacon, beans and tomatoes it was time to set off for Leicester and begin the judging the last 4 kits. As the starting time was 11am it was a leisurely start and I felt quite refreshed to begin the final hurdle. The day was absolutely perfect – no wind, a little cloud, and definitely no rain on the horizon.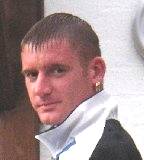 Leigh Bown (pictured right) was first with his young bird kit (For AERC), and although he was confident in their potential he hadn't reckoned on perfect weather. The birds clearly decided the weather was made for holidays, so that's how they decided to perform – taking a day off. Poor Leigh left with a measly 60 points.
Terry Harper faired not much better with his yearlings. They looked really as though they just weren't in the mood. Fortunately the delicious beef sandwiches made up for my disappointment in his 136 points. Off to Gordon Daffurns' to finish the fly. Gordon was there to greet us and wasted no time turning out his young bird team (For MRPC) . Lifting a little too high, and probably being a little too active did not help his score, as they were not breaking cleanly and the quality was difficult to discern due to their altitude. Once they lost height the quality was a lot less than anyone would expect from Gordon's birds – even youngsters, so I do think that the excellent weather was having a detrimental effect on the rollers today!!! Gordon finished on 110 points. His old bird team again representing the Midland Roller Pigeon Club, faired even less well as a Raven split the kit early on chasing most of the kit up and 3 down. Although I noted some very good quality birds and managed to score 10 medium breaks, it was not to be, as the 3 lower birds dropped just after 13 minutes. Hard luck Gordon – as Gordon Forbes often said to me about my kit, today's kits were: 'a waste of good weather'.
Sad to finish off on such a note, so I will finish with a short summary of my thoughts on the competition, the kits, the quality, and judging.
Firstly let me say how pleasant it was to see such good sportsmanship from most fanciers on the fly, I was particularly heartened to see the Gateshead club members helping each other to fly better rollers. It certainly showed in the performances I saw up there. Also it was a pleasure to see local fanciers turn out and go around the fly when local fanciers were competing taking an interest in other members performances. For once realising that it was in fact their club that was being represented, rather than this being entirely about personal glory. Thanks so much to those fanciers who provided refreshments for us all along the way – and please pass my thanks on to your partners behind the scenes doing some of the catering for those of you who had help from that quarter.
The kits I saw over the 10 days were largely pretty good. I think that the roller hobby is in pretty good shape apart from the Peregrine and Sparrow hawk problem, I would say that it is healthier now than at anytime I can remember. At one time it was possible to see similar quality and active kits, but these would be in only a few fanciers hands such as Bill Barratt, Bob Brown, Ollie Harris, and Ernie Stratford. These days everyone has some birds of quality, and a lot of people have very good kits.
It was good to see that many fanciers are concentrating on quality as well as activity in the kit. In the past I have judged kits which had sacrificed quality for activity and that always disappoints me, this year I have seen much better kits that have valued from the right selection of birds have a good mixture of quality depth and frequency, most of the kits I saw seem to have found the balance.
On the subject of quality, I have to say that in my opinion there is still a misunderstanding about the awarding of quality points. This isn't to say that there are not a few possible ways for them to be awarded. But I am amazed that after all this time (first used in 1982 after I synthesized the rules and constitution for the NBRA) there's still confusion. The entire reason for quality points was so that the quality Birmingham Roller could compete with the rollers that were inferior in quality but so active that on the 'then' current rules were winning most of the competitions. It was a worrying time for those of us who believed that the fast stylish and often medium to deep rollers would stand little chance of defeating the shorter energetic birds that would break big, frequently, but with little style. Since the introduction of the quality points the balance has been restored, but only when the judge cares enough or is able enough to use them for their purpose. Clearly a judge who simply gives 30-40 quality points to every competitor has lost the plot big time. Also the judge who thinks that the overall performance of the team such as kitting , breaks and pattern of flight should be considered in the awarding of quality points is also sadly mistaken. Breaks and kitting should be judged quite separately. The judge that awards 10 points per bird in accordance with the kits highest break is also (in my opinion) a bit of a bone head. Lets be clear they are to be awarded for the quality of the roll in each individual bird in the kit. Thus my method is simple, awarding 10 points for each bird in the team I judge to be rolling properly!
Now I am not saying I am so perfect that I am right and any other method is wrong, but what I can tell you is this is why they were invented. The judgement part of awarding quality is down to the individual judge, one judge may decide to award quality points only to birds which roll absolutely perfectly, some like myself will use these points to ensure that only proper Birmingham Rollers rolling in good style could win the competition. Others may decide that nothing will score a break unless it is already rolling in very good style and thus the quality points are rather academic. Some will pick out the stars in the team and award quality points only to them. I have no problem with any of these judges, but they should keep in mind that the objective is to ensure only proper Birmingham Rollers win Birmingham Roller competitions. This year I decided that I would award quality points to all rollers I saw that rolled in 'good style' whether that was tight and fast or slow and graceful short or deep but definitely only those that had style. This disqualified the ungraceful and wingy no matter how deep or fast they rolled. My only time I waivered on this resolve was with Paul Noon's rollers. I had up to that point in the competition scored 10 points for any individual bird that I saw roll in good style once. If I had held to this idea Paul would have received 150 quality points, because when they first went out I did see 15 roll in good style, it was only during the span of time that I noticed them deteriorate in style, and I ended up revising my opinion down to 90 points. Perhaps a little unfair as I suppose if the team hadn't continued to work and I'd only seen them break once or twice then they would have had all the points I originally had in mind. Does this mean then that I should or should not consider consistency in awarding quality points? This is a bit of a dilemma, as this means that a team that does deteriorate over the 20 minutes is dealt with more harshly than the stiff team that rolls with good quality just the once or twice. I guess this is why they call you the judge.
Best wishes to all of you competitors out there, keep flying and keep trying to impress yourself as much as any judge and you wont be far wrong in my eyes.
Graham Dexter
Below are some photos sent in by John Hall of the AERC fly in the North East