The Bradford lads (and lass) turned out again for the end of the competition. We all had a big flat cake with a full brekkie on at Gary and Wendy Templemans. Gary then flew his yearlings they started off very slow just rolling individually with an odd break in. Then up to Morris holes, he flew a very good quality young bird team some lovely deep rollers here. Morris took the lead which he kept to the end. Ali Milne let his young bird team out they were very active, Ali gave them the full 10 minutes before he put them on the clock. On the clock they still worked very well a lot of people asked him why he hadn't put them on earlier but Ali said they weren't ready. He finished second with them but who knows if he'd put them on earlier. Derek Smith's yearlings blew away with the wind when they came back popped in a few breaks some nice individuals. Morris Hole flew a nice yearling kit some nice quality rollers especially a red one if there was a champion yearling this bird would have walked it!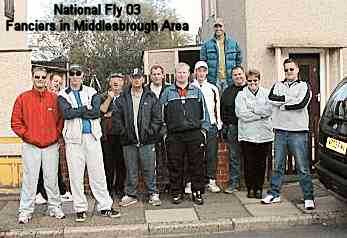 Peter Foster's old birds flew at a nice height against the wind a good quality working team that went on to win the competition. Wayne Wilson flew a nice team of young birds to finish the day off as it was too late to get down to Steve Buckleys.
Peter Harper flew his young birds for us whilst we had a cup of tea before hitting the road to Bradford.
We arranged to go to Steve Buckleys the Monday evening and myself and one of my daughters Natalie went over to judge his old birds they were a nice team, some nice quality in them and active.
Steves kit finished the 2003 national championship.
I've read in the journals about the judge's experiences but it was better than I ever imagined. We saw some good quality birds and friends old and new. If you like judging then it's an opportunity of a lifetime, so get in touch with Paul Lee and put yourself forward I promise you, you won't regret it.
Congratulations to the winners .
To Paul for giving me the opportunity to do this, to all who fed and watered us. To Pete and Denise Harper, Gordon Daffrun and Paul and Marilyn Lee for putting us up and putting up with us! To Adam Bairstow my trusty marker. And everyone who turned up and came round on the fly to support us. You all know who you are but you're too many to mention. Finally to Donna, Natalie, Nicola and Naomi for looking
after my birds whilst I was away.
Thank you to you all,
Paul Chantry